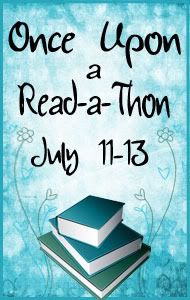 I'm doing another mini-challenge!
This one is hosted by Casey at
The Bookish Type
. Her challenge is:
Pick any book from your readathon pile and write a fake synopsis based solely on the cover. The synopsis does not have to be related to the actual book at all, just the pretty, pretty cover.
What happens in Vegas, Stays is Vegas is no longer true as Joanna Archer knows what evil and monsters exist alongside the human race. She's mortal, but she wasn't always, and her creepy eyes let the bad dudes know that she is the hunter and
they
the prey. When the sun goes down, the leather jumpsuit comes out, along with the wicked short sword that Joanna uses to carve through her enemies. Humanity needs her... to be badass.
And now, for an update of my progress
Books Read Completely:
Turn It Up by Inez Kelley (373 pages)
Falling Under by Gwen Hayes (324 pages)
Alison Wonderland by Helen Smith (200 pages)
Love On The Big Screen (226 pages)
Completed Books Total Page Count:
1123
Total Hours Read So Far:
16
Challenges Completed:
2
Currently Reading: