Please give a warm welcome to McCarty Griffin. I'm moving the spotlight over to her, as she talks a little about her writing journey, indie publishing, and her daily routine.
Find McCarty Griffin at her author page on
Smashwords
|
Website
|
Twitter
|
Facebook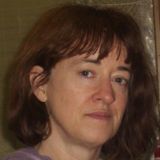 I started writing Monster Story years ago, when I was still in law school. I've been in love with horror since I was a small child, thanks to my mother's penchant for watching Chiller Theater, hosted by Chilly Billy Cardille, every Saturday night and allowing her enthralled four-year-old daughter to watch with her. I grew up on all the great scary movies, featuring the wolf man, vampires, mummies, zombies and aliens. If the movie became too much for me to bear, my mother would let me hide my face in her side until I could stand to look again. To this day, I have to fight the urge to hide my eyes in my husband's shoulder if we're watching a particularly frightening movie, especially living dead movies.
When I hit my teens, I discovered Stephen King, who wrote what I consider the best vampire story in print, 'Salem's Lot. I also came to love the works of Anne Rice, Dean Koontz and Peter Straub. This steady diet of the best horror writers of our time cemented my love for a good old-fashioned monster story, whether it's a movie or a novel.
Fast forward to my early thirties, when I lived in a back holler in West Virginia, while attending law school at West Virginia University College of Law. I had a three-hour commute every day and many times I would find myself driving all alone on the deserted back roads after dark to get home to the log cabin I lived in at the time. I don't remember when the plot for what would eventually grow into Monster Story began brewing, but I do recall many nights staring at a big full moon in the black skies above me and wondering how I would react if indeed a beast like a werewolf suddenly jumped out into the road from the surrounding countryside. Since I was far too old to run home to my mother and hide my face in her shoulder, I decided to write the story. Naturally, I had to call it Monster Story; nothing else seemed to fit.
Like many Indie writers, I have a full and hectic life. I wake up before daylight, and while everyone else is still sleeping, I do the social media rounds for the sole purpose of marketing my books. I solicit reviews and interviews. I beg for guest blog spots and for bloggers to post my book for their readers to discover. In short, I do whatever I can to market my work in a virtual world literally flooded with Indie ebooks. Then, after I get my two children off to school and my husband leaves for work, I divide my time between my writing and my household. Sometimes the writing takes precedence, sometimes the household does.
At times, I feel as if I just don't have the time I need to do all the things I want to do, especially writing. That's how Monster Story ended up languishing in a drawer (and later, a computer file) for several years, until I finally realized that no one was going to give me the time to write; I had to just take the time. I still struggle with that, as I have no doubt many other writers do. However, the longer I go on with my determination to write full time and actually make a living at it, the better I get at managing my time.
Someday, I'll find that perfect balance between life and writing. Until then, I'll just keep trying.
Thanks McCarty, for stopping by. I can see how a steady diet of horror movies and living in a rural area can certainly spawn numerous atmospheric and spooky novels! Check out MONSTER STORY, a full-length novel and HALF-INCH, a short story both by McCarty Griffin on Smashwords today!
From Good Reads:
Christy McCauley has returned to West Virginia at last, but her homecoming quickly turns into a surreal nightmare. In the deep hollows and woods of rural Augusta County, something unspeakable is slaughtering people in the dark of night. Authorities don't know if its human or animal, or how to stop it. Christy and her friends only know they must hunt it and destroy it, before it kills again.
Buy on Smashwords
From Good Reads:
Pammy has had enough of Bobby, her abusive drunk of a husband. One lovely spring day, she decides to kill him, despite the fact that they will soon be divorced and he will, at least in the eyes of the law, be out of her life for good. Indulging in homicidal daydreams for years has led her to devise her own perfect and completely bizarre plan.
Buy on Smashwords
Tour Participation: