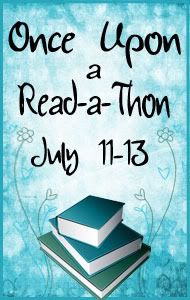 This mini-challenge is hosted by
Bailey at IB Book Blogging
. She asks:
Mini Challenge Question 1:
What is your favorite type of myth (Greek, Roman, Egyptian etc)?
Honestly, I find myself being drawn to myths from all cultures. However, I do find myself liking creation myths above others.
Mini Challenge Question 2:
What is your favorite book with some type of mythology in it?
Oddly enough, one of the first books that I read and completed for this read-a-thon was FALLING UNDER by Gwen Hayes, which is reminiscent of the Hades/Persephone myth, and I really enjoyed reading it.

I'm not sure that I could choose one favorite, but I've been reading a good amount of YA books lately that deal with mythology. Of these recent reads, I absolutely loved DARKNESS BECOMES HER by Kelly Keaton. Another recent read, in which the world-building was fantastic was the adult urban fantasy by Jenna Black, DARK DESCENDANT.
Now, I'm off to take a short lunch break, and then I'm going right back to reading. If you are participating in the read-a-thon, leave a comment. I'll be sure to check back in, so if you want to leave a link to your challenge or update post, I'll come visit during my next break!